Free, private, and secure email for business and enterprise.
Create your free, private, and professional business email. Send and receive email as you@yourdomain.com.
Try for free
No credit card or phone required
Unlimited domains and aliases

Send outbound SMTP email

Error logs and real-time alerts
Features and Pricing
Free
Basic plan to get started
$0
/month for unlimited domains
Get started
Unlimited domains and aliases
Spam protection
50MB attachment limit
Catch-all email addresses
Multiple recipients per alias
Enhanced
Advanced features and privacy
$3
/month for unlimited domains
Get started
Everything in Free plus:
Secure inbox privacy
Manage and import aliases
Custom spam filtering
Opt-in recipient verification
99.99% service uptime
Team
For groups and organizations
$9
/month for unlimited domains
Get started
Everything in Enhanced plus:
Unlimited team members
Team permission management
Shared organizational access
Priority support requests
Exceed standard rate limiting
Custom recipient verification
Early access to new features
Send and receive email with your custom business domain name. We are privacy-focused, secure, and trusted by the open-source community.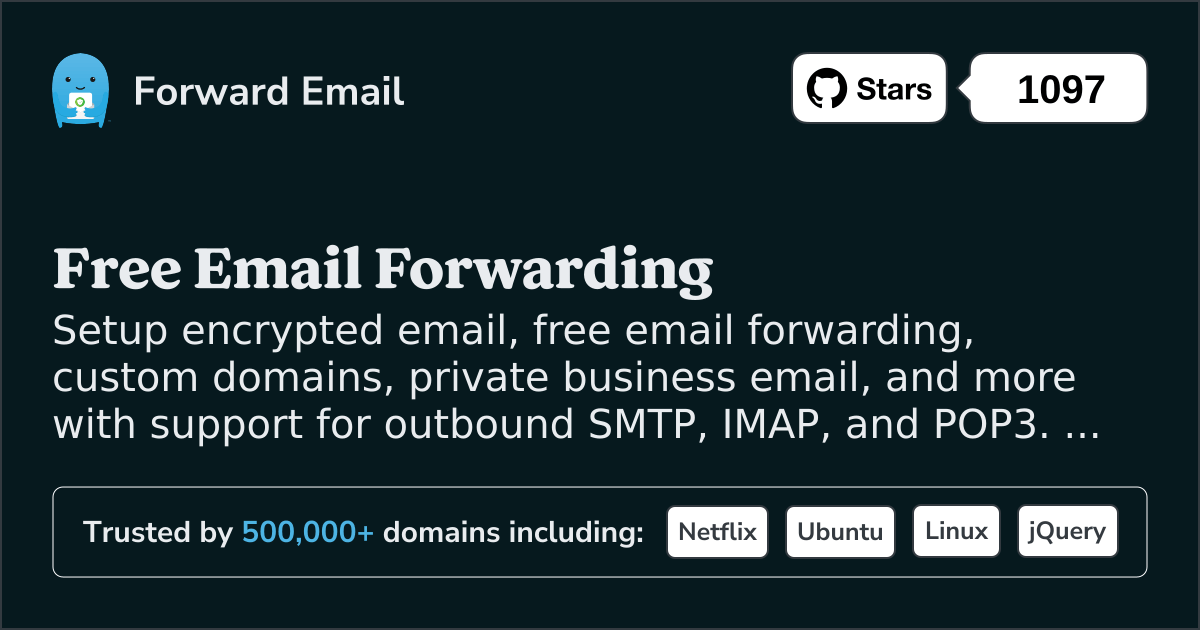 Frequently Asked Questions
Browse commonly asked questions and answers about pricing below.
What is the difference between Free and Enhanced?
The Free plan requires you to use public DNS records to store your forwarding configuration. Anyone with a computer can lookup your forwarding configuration in a terminal if you are on the Free plan. Unlike the Free plan, the Enhanced plan uses a cryptographically generated random string to store your forwarding configuration privately.
Free
user@gmail.com
Enhanced
••••••••••••••••
Do you offer unlimited domains for one price?
Yes. Regardless of which plan you are on, you will pay only one monthly rate – which covers all of your domains.
Do you accept one-time payments and subscriptions?
Yes. We accept both one-time payments or monthly, quarterly, and yearly subscriptions.
Do you offer a money-back guarantee?
Yes. We offer a 30 day money-back guarantee – with no questions asked.
Will you ever increase prices?
No. Prices will never increase. Unlike other companies, we will never shutdown our service either.
Can I configure Spam Scanner settings?
Yes. You can toggle filters for adult-related content, phishing, executables, and viruses from Settings.
Do you store SMTP logs or write to disk?
No. We have a Privacy policy of not storing SMTP logs, metadata, nor emails (with the exception of errors). You will find that every other email forwarder stores SMTP logs and writes your emails to disk storage... usually on unencrypted databases and without SOC 2 Type 2 compliance. This common practice is a huge security risk for you, and is another reason why we built our service. Our expertise allowed us to build our own custom solution that uses memory-based streams, and is lightning fast and privacy-focused.
We don't track you like other services do.
Do you have a question?
Read our dedicated page for frequently asked questions or submit a help request.